Christmas Gingerbread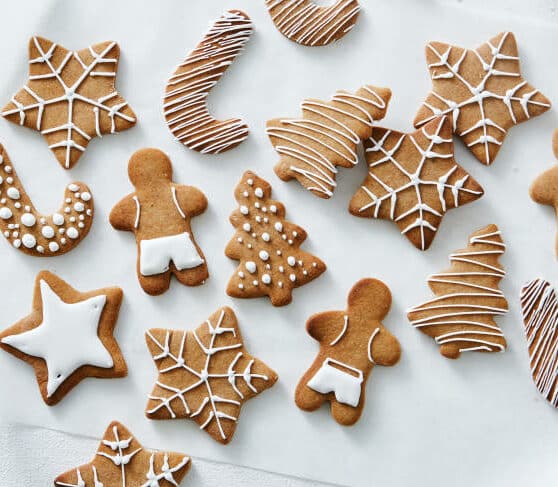 'Tis beginning to look like Christmas when this recipe comes out. It's also a great 'thank you' gift.
Christmas Gingerbread, Serves 40, Prep 15mins, Cook 15mins.
*
INGREDIENTS
125g butter, chopped
1/2 cup golden syrup
1/2 cup brown sugar
1 free range egg yolk
2 3/4 cups plain flour
1 tbs ground ginger
2 tsp mixed spice
1 tsp bicarbonate of soda, sifted
1 free range egg white
1/2 tsp lemon juice
1 1/2 cups pure icing sugar, sifted
*
METHOD
1. Preheat oven to 180°c/160°c fan-forced. Line two baking trays with baking paper.
2. Melt butter, syrup and sugar in a small saucepan over low heat. Remove pan from heat. Stand for 5 minutes, then whisk in egg yolk.
3. Combine flour, ginger, mixed spice and bicarbonate of soda in a large bowl. Add butter mixture and stir to combine. Shape dough into a disc, cover with baking paper, then refrigerate for 30 minutes or until firm.
4. Roll dough between 2 sheets of baking paper until 5mm thick. Using assorted Christmas cookie cutters (about 5 x 8cm – Robins Kitchen have a great assortment), cut shapes from dough, re-rolling scraps and cutting shapes. Place 4cm apart on trays, then bake, swapping trays halfway through cooking, for 12 minutes or until light golden. Stand on trays for 10 minutes before transferring to a wire rack to cool completely.
5. To make the royal icing, lightly whisk egg white and lemon juice together in a bowl. Gradually add icing sugar, whisking until smooth and combined. Spoon mixture into a piping bag fitted with a 2mm plain nozzle. Using the picture as a guide, decorate gingerbread with icing. Stand for 30 minutes to set. Serve.
*
Recipe:
Woolworths.  Enjoy.