Believe & Achieve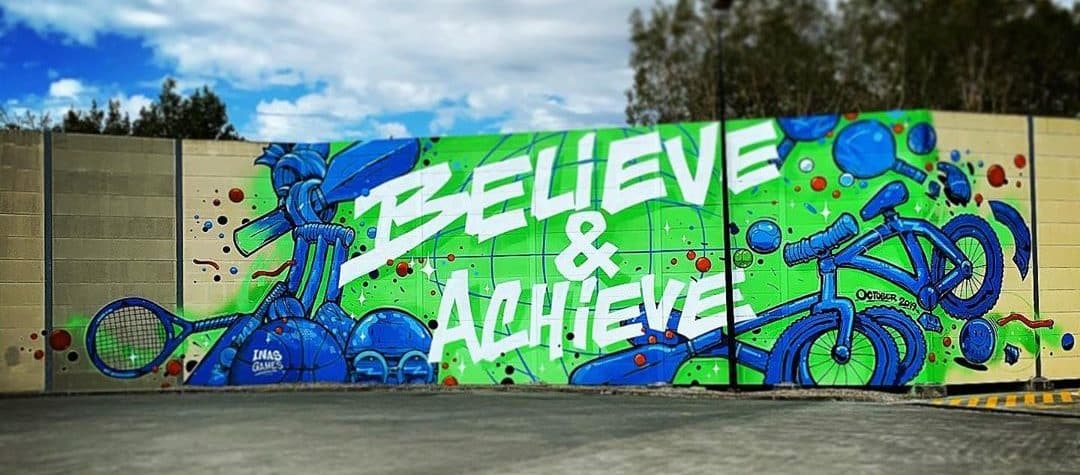 The INAS Global Games 2019 is the world's largest sporting event for athletes with an intellectual impairment. Brisbane is hosting the Games from 12 – 19 October 2019 to over 1000 athletes from 50 countries.
In celebration of Brisbane being the INAS Global Games 2019 host city, Calamvale Central is proud to have the INAS Games Legacy Artwork mural in our Centre.
Come and check it out (from a safe distance 😀) in the BIG W loading dock!
ABOUT THE MURAL
The mural has been created by renowned graffiti artist, Sofles, in a collaboration process with students from diverse backgrounds and abilities, including those from Calamvale Special School.
The mural design was Sofle's interpretation of ideas and conversations shared between the students who explored together the place of sport in their lives and how involvement in sport contributes to them feeling included, connected and successful.
ABOUT THE GAMES
More than 1,000 athletes from all around the globe gather every four years to compete.
The sports contested are athletics, swimming, table tennis, rowing, basketball, futsal, tennis and cycling. Find out more about the games here > https://gg2019.org/
This project was produced by Vast Yonder and Brisbane Street Art with support from Brisbane City Council and Calamvale Central.
Photo Credit: DKJ Travel & Photography